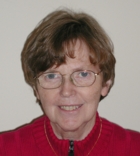 A Bit About Me
After 10 years of high school math teaching, I was awarded a Ford Fellowship for Educational Leadership. This led to a Harvard PhD in social psychology. I changed fields because I had always cared more about how my students were relating to themselves, each other, and their life than I did about the math they needed to learn.
As a social psychologist I have written a high school text: "Social Interaction:Shaping Each Other's Lives", (Harcourt, Brace Jovanovich, 1975.) In 1976 I founded Women's Workshop, " An Innovative Approach to Re-educating Women and Men about Themselves". During these years I discovered the complexity of the self's communication network and became a communications expert, realizing we cannot be liberated unless we can participate in our communication system without violating it.
Since 1976 I have researched, developed, written, and taught liberation psychology and its counter-part, self-expression with accountability. It is my philosophical, ethical, psychological and personal approach to preserving the integrity of our paradoxical nature.
I am a pacifist, and discovering how to live in accord with our nature has been the greatest joy of my life.